Director of the Public Enterprise for State Roads Mr. Vlado Misajlovski paid a working visit to the Southeast region, including the town of Makedonska Kamenica, where he met with the town Mayor Mr. Darko Mitevski, the local residents and the representatives of Sasa mine.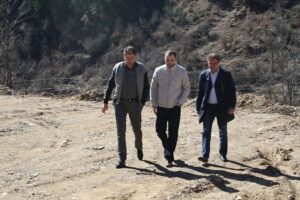 They discussed about the local road infrastructure projects, as well as the other projects planned to be implemented at the municipality.  Director Misajlovski informed the meeting attendees that design development was underway for the 20km long section of the regional road R1210 connecting the mines Toranica and Sasa. This road section will be very important as a link between the municipalities of Kriva Palanka and Makedonska Kamenica, because currently there is no road connecting them. Another matter discussed was the rehabilitation of about 30km of the regional road Kocani – Delcevo, planned to be executed with World Bank loan funds.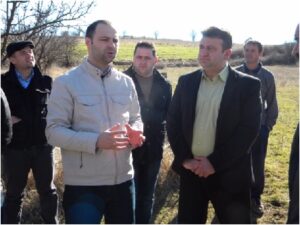 During his visit to the region, Director Misajlovski also met with the Mayor of Pehcevo municipality Mr. Igor Popovski and with the local residents, and discussed the local roads infrastructure issues.
The visit to the region was concluded with a meeting with Dojran Municipality Mayor Mr. Borce Stamov and the local residents of v. Nikolik. Director Misajlovski informed about the forthcoming complete rehabilitation of about 6 km long branch of the regional road between Nov Dojran and v. Nikolik. This rehabilitation will include a complete renewal of the traffic signalization, and will also be financed by a World Bank loan. To improve the traffic safety, currently new traffic signalization and traffic furniture is being installed along the regional road Strumica – Dojran of 65 km, an investment worth 16 million denars, said Mr. Misajlovski.