The construction of the interchange on the bypass road Skopje at Smilkovci area has started. The interchange shall contribute for faster and safer transport of about 8000 residents of 5 settlements.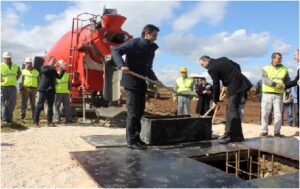 PHOTO /MIA
Minister of Transport and Communications Mr. Mile Janakieski said that this 40 million denars worth construction was expected to be completed in about one year. He added that the interchange was of a great importance for faster and safer travel of citizens, and that it would shorten the distance to Skopje city center for about 10 kilometers.
Skopje City Mayor Mr. Koce Trajanovski emphasized that construction of this interchange was initiated by the local residents of the villages of Smilkovci, Creshevo, Viniche, Bulachani, Rashtak, and Stajkovci.
Director of the Public Enterprise for State Roads Mr. Vlado Misajlovski stressed that he was expecting a major construction expansion throughout the country this month.
– We have started with repairs of bridges, regional and local roads, now we are continuing with interchange construction, and I expect to witness an expansion of construction activities in all parts of Macedonia this month, he said.
He added there were currently nine interchanges on the Skopje bypass road that are functional and illuminated, and the new one shall be the 10th fully lighted interchange.