Prime Minister Nikola Gruevski, during his visit to the municipality of Kavadarci, put into operation the reconstructed road from the locality Ladno Dolche to the villages of Stragovo and Krnjevo.
– This road is very important for the daily life of the residents of several villages: Stragovo, Krnjevo, Chemersko, Bohula, Gorna and Dolna Boshava. In addition, it is especially important for the forest economy, local farmers and vine growers, but also for citizens travelling to picnic sites and to ski center Kozuf, emphasized Prime Minister Gruevski, adding that the road before the reconstruction was in an extremely poor condition, only 3 meters wide and with numerous potholes and other asphalt failures.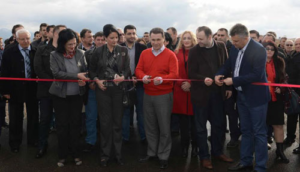 Photo by : MIA
– The Government allocated 46 million denars for a complete reconstruction and widening of the road in total length of about 5 kilometers. The works were completed last year and the citizens have already felt the benefits of using this reconstructed road, stated Gruevski.
Director of the Public Enterprise for State Roads Vlado Misajlovski said that local roads, albeit connecting only small regions and villages, are of great importance both for the quality of life in the settlements and for the municipal development. In its efforts to improve the local road infrastructure, the Municipality of Kavadarci applied for reconstruction and rehabilitation of several local roads, i.e. the regional road 107 to the village Resava, from Resava to the village Begnishte, and the local road Ladno Dolche-Krnjevo-Stragovo, in total length of about 17 kilometers.
Construction of 57 kilometers of 46 local roads in 38 municipalities commences today. The 7.2 million euros worth construction works shall be completed in nine months.