The Public Enterprise for State Roads had the repair and reconstruction of Gemidzii – the most frequently used bridge in Veles –– completed four and a half months ahead of the planned completion time.
Today's reopening of the bridge was attended by the Director of the PE for State Roads Mr. Ljupco Georgievski, Members of the Parliament of Macedonia Mr. IlijaDimovski and Mr. GjorgjiKodzabasiev, the Mayor of Veles Mr. SlavcoCadiev, the City Council President Aleksandar Kolev, and other individuals who were actively involved in the project implementation.
– I would like to use this opportunity to express our gratitude to the citizens of Veles and everybody else who use this bridge for their patience during the bridge reconstruction period. Our goal was to complete its full repair in the shortest term possible, which was done well before the planned completion time, stated the Director of the PE for State Roads Mr. Ljupco Georgievski.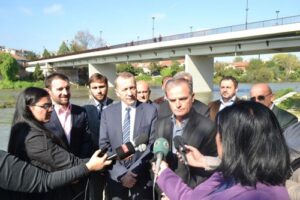 The investment value of the repair of Gemidzii Bridge reached almost 34 million denars, which were provided from the central Budget of the Republic of Macedonia.
This project implementation is of a great importance for the local government.
– Cracks on the bridge first appeared seven years ago and grew wider over time, because of which the citizens of Veles considered the bridge repair one of the city's highest priorities. With this repair the bridge is fully stabilized now. I would like to express our great appreciation to the Government of the Republic of Macedonia and the PE for State Roads for meeting our requests and carrying out this important construction activity, said Mayor Cadiev.
This project, as well as others that were implemented previously, show the strong and open support of the Government to Veles and its citizens.
– This is the dynamics by which we plan to continue working in the forthcoming period on many other projects we have promised, emphasized IlijaDimovski, Member of the Parliament of RM from Veles.