The Director of the Public Enterprise for State Roads Mr. Aleksandar Stojanov and the Mayor of Petrovec Municipality Mr. Borce Mitevski went on site today to check the progress of repairs on the most damaged parts of the regional road R1102 in Petrovec municipality.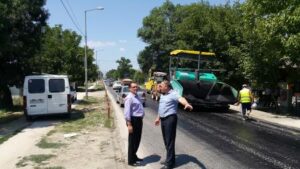 Currently the most severely damaged 1500 meters long section of the road going through the settlement of Petrovec is being repaired.
The rehabilitation of this section of the regional road, which is used by a large traffic volume, will improve the traffic safety.