The reconstruction of the 26 kilometers long section from Veles to v. Kadrifakovo has progressed according to the schedule. Over 60 percent of the works on the second phase, which is the 8.9km long section from the end of the third lane (Landfill Veles) to v. Lozovo, have been completed. Currently the first asphalt layer is being laid.
The plan is to cover 8.9 km of road with the first asphalt layer by end next month, which will be followed by putting the second asphalt layer. The traffic signage is also planned to be fully renewed and placed in compliance with the modern regulations and standards. The value of the second phase investment shall be 5.77 million Euros.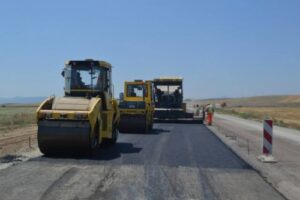 The start of works on new road section is also as scheduled.
"I expect contracts to be signed next month for five new regional road sections: Dojran-Nikolik, Mokreno-Smolari, Brvenica-Chegrane, Resen-Bukovo, and Novo Selo-Mavrovo-Debar. With all this, Macedonia will have more than 70 kilometers of new modern roads with signalization as appropriate for a European country," said Mr. Vlado Misajlovski, Minister of Transport and Communications, upon seeing the progress of works on site.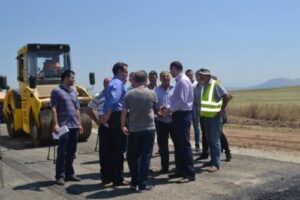 In addition to the new motorways construction and modernization of the regional roads, the local road infrastructure is also being improved.
"Out of the 46 local roads that are planned to be improved this year, on 15 the works have already been completed, and are underway on another 21 sections. We expect all the planned roads to be completed by end this year," stated Mr. Aleksandar Stojanov, Director of the Public Enterprise for State Roads.