Director of the Public Enterprise for State Roads Mr. Aleksandar Stojanov and the Mayor of Aerodrom Municipality Mr. Ivica Konevski went on-site today to check the progress of works on the local road "Todor Changov" at the settlement of Gorno Lisiche in Skopje.
Aerodrom Municipality applied to use a portion of the funds, allocated to it under the governmental Project on Improvement of the Local Roads Infrastructure, for construction of three local roads.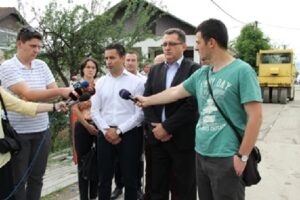 The works on rehabilitation of the 1.63 km long local road "Todor Changov" have already begun, and construction activities are also expected to start in the forthcoming period on the 1.7 km long local road through Gorno Lisice. Both roads are expected to be completed in August this year.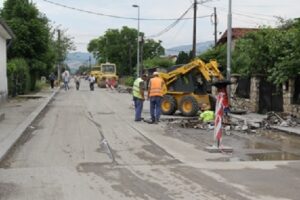 The 3.6 km long local road from the village of Dolno Lisiche to the village of Gorno Lisiche was also completed in Aerodrom municipality under the abovementioned Project in 2013.
The total length of these three local roads is about seven (7) kilometers and the total investment value is about 45 million denars.