Remediation works on Melnicki Bridge near the town of Debar are in final stage. The 370 meters long bridge was built back in 1970 and has not undergone any repairs since then.
"We expect the works to be completed formally in the next few days with the technical acceptance testingby the Supervision Engineer and the Contractor. This year we have commenced works on five bridges, with two of them being newly constructed and three undergoing remediation activities. These investments amount over 160 million denars in total this year," said Ljupco Georgievski, Director of the Public Enterprise for State Roads.
The repair also included preservation of the water supply pipeline for Debar. The works are a 69.6 million denars worth investment.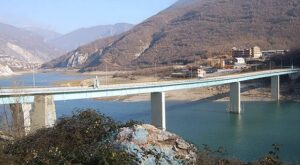 In addition to the bridge remediation, a 650 meters long road section was illuminated with 18 lamp posts. The lighting is energy efficient and 2.3 million denars worth.
About 10.5 kilometers of roads and junctions have been illuminated this year in total costof 44 million denars.