Agreement was signed today by the Director of the Public Enterprise for State Roads Mr. Ljupco Georgievski and the Vice President of the Turkish company "Aselsan" Mr.Yavuz Suat Bengür, and in presence of the Vice Prime Minister and Minister of Finance Mr. Zoran Stavreski and the Minister of Transport and Communications Mr. Mile Janakieski. The investment is EUR 18.7 million worth, of which EUR 15.8 million have been secured by the Government of the Republic of Macedonia by a loan from the European Bank for Reconstruction and Development, and the remaining EUR 2.9 million shall be provided from the national budget.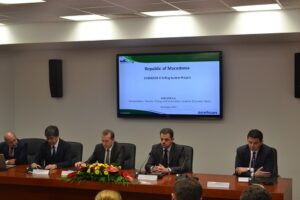 Agreement envisages reconstruction, expansion and modernization of the existing toll stations along Corridor X – Petrovec, Sopot and Otovica; dislocation, modernization and doubling of the number of toll collection lanes at Romanovce and Gradskostations, as well as construction of two new toll stations near Demir Kapija and Gevgelija.
– The signing of this Agreement is Government'sanother step forward aimed at investing in the transport infrastructure, and in the most important transport route across Macedonia – Corridor X, through which 70% of the total trade of goods in the country is carried out, -Deputy Prime Minister Zoran Stavreski said.
According to Minister of Transport and Communications Mile Janakieski, despite the introduction of an automated collection method which will fully eliminate the human factor, all employees in the Public Enterprise will retain their jobs.
Director of the Public Enterprise for State Roads Mr. Ljupco Georgievski emphasized that the construction, reconstruction and modernization of the toll stations and the installation of the electronic toll collection system along the Alexander of Macedonia Motorway shall provide for fast flow of vehicles, i.e. shall reduce thetime needed to pass through the toll stations to a minimum.
According to the Vice President of "Aselsan", the system that they will implement is a field proven one that has automatically collected tolls for more than 15 years under heavy traffic in Turkey.
– The system to be implemented in Macedonia is an even more advanced version of the already successful field proven system. "Aselsan" is also hoping that this Project shall further contribute to the development of the already close relations between the two countries, said Mr. Bengür.
In a year and a half, the toll collection at toll stations along Corridor X shall be carried out completely electronically with contactless smartcards and microwave transponders, by which drivers will be able to pass by only by reducing the driving speed, i.e. without stopping the vehicle.