Minister of Transport and Communications Mr. Mile Janakieski, Director of the Public Enterprise for State Roads Mr. Ljupco Georgievski, and the Mayorsof SvetiNikole, Stip and Lozovo Mr. Zoran Tasev, IlcoZahariev and OrceCvetkovski went on site today to see the start of construction activities on Veles – Kadrifakovo road, section from Lozovo via Saramzalino to Kadrifakovo.
The third phase of Veles – Kadrifakovo is 10.9km long and EUR 7.5 million worth, and should be completed in 18 months, i.e. by April 2016.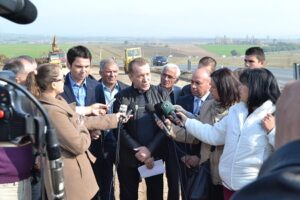 Minister Janakieski emphasized the great importance of Veles – Kadrifakovo road for the eastern region of Macedonia.
– There are several black points on this section at the moment, but with this construction the road will be widened from the current 6.5m to 11m, by which some of the black points will be completely eliminated. The product will be a completely renewed alignment of road with speed limit of 80km/h to 100km/h, said Janakieski.
Mr. Ljupco Georgievski, Director of the Public Enterprise for State Roads, explained that the EUR 15 million investment would be funded with an EBRD loan provided by the Government.
– Currently there are construction activities contracted by the PE for State Roads or the Ministry of Transport and Communications on about 55 km of regional and national roads that are scheduled to be completed in 2015 and are over EUR 30 million worth. In addition, from 2010 to date more than 680 km of local roads have been completed, a total investment of over EUR 55 million.