"Gemidzii" Bridge in Veles was reopened for traffic today.
– The initially planned reopening of the bridge for traffic was for late August, but we completed the works a month earlier, stated Ljupco Georgievski, Director of the Public Enterprise for State Roads.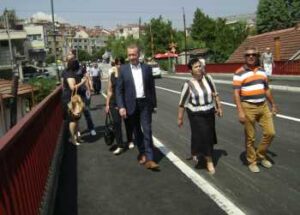 He emphasized that the bridge reconstruction would continue in the next two to three months, but without disrupting the traffic flow.
– Most of the works on the 170 meters long bridge have been completed. The bridge was fully scraped down to its bearing capacity structure, which was completely fortified, and is now stable. The bridge deck was then asphalted, and currently the fence is being painted, said Georgievski, adding that all the works have been done in high quality and in accordance with the design.
In the upcoming period, the repairing works on the lower part of the bridge will continue.
– Despite the initial plan for the reconstruction of "Gemidzii" Bridge to be completed at the beginning of 2015, the bridge will be fully repaired and put into operation by October this year, said Director Georgievski.