The reconstruction of Veles – Katlanovo motorway section of 23.5 km has begun. One of the most frequently used road sections in Macedonia will be repaired in the following 12 months with funds obtained from a grant of the IPA component for regional development and from the central government budget. The project's financial construction amounts to 5.7 million euros. With the rehabilitation, the asphalt will be replaced along the whole section, new road markings and signage will be placed, as well as new guardrails, while the critical rockfall spots will be treated with rockfall protection netting.
Simultaneously with these works, 13 bridges are undergoing repairs along the motorway section Veles – Skopje, with financial support from NATO amounting to 8.6 million euros.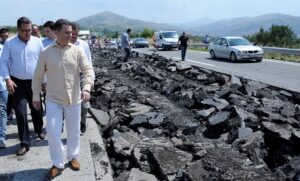 The official commencement of works today was attended by the Prime Minister Nikola Gruevski, the Deputy Prime Minister and Minister of Finance Mr. Zoran Stavreski, and the Minister of Transport and Communications Mr. Mile Janakieski.