H.E. Zoran Stavreski, Deputy Prime Minister and Minister of Finance, and Mr. Ljupco Georgievski, Director of the PE for State Roads, went on-site to check the progress of works on the landslide remediation in Kratovo.
Upon the inspection, the Deputy Prime Minister Stavreski said the works on remediation of the landslide above Kratovo were proceeding well and according to the design schedule.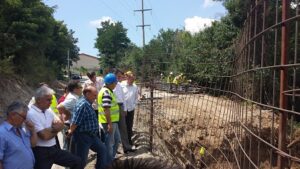 – The PESR Director and others working on this project assured me that works will continue to progress as scheduled to fully complete the remediation by 20th September, 2014. The remediation will not only stabilize the road but also enable its widening with a third lane and a sidewalk, said Stavreski.
Mr. Ljupco Georgievski, Director of the PE for State Roads, emphasized that this landslide remediation was implemented with budget funds, adding that it would cost about 57 million denars.
– We are currently working on several such projects throughout the country, such as the three landslides on Radovis-Konce road, the landslides near Botun and Tasina Cesma on Ohrid-Kicevo road, the landslide near the children's resort on Pelister, and the landslide in Mavrovo on the location from the dam to Mavrovi Anovi village. They are all being implemented with budget funds and credits obtained by the Republic of Macedonia from the World Bank and the EBRD, said Georgievski.