The application showing the traffic conditions at toll stations and border crossings,PESR CAMERAS, developed by Mr. Daniel Radevski from Tetovo, BSc. Economics,is free and tailored for smartphones and tablets. It contains an overview of 23 video cameras at the toll stations and border crossings, a calculator of distance between two destinations in Europe, and reports on road and traffic conditionsthroughout the country. Currently available in Macedonian language, the application will soon also be developed in English and Albanian.
Download the application at:http://www.roads.org.mk/m/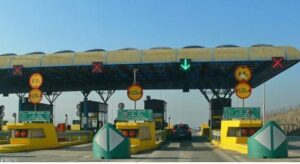 Leaflets showing a toll stations map and toll rates are distributed starting today. The leaflets provide information to drivers that road tolls in Macedonia are paid at toll stations either in cash in Macedonian denars or euros, or by payment cards. They also suggest that road toll payment in denars is simpler and cheaper, and inform that foreign currencies can be exchanged in denars at the border crossings.