During his visit to the city of Veles, the President of the Government of the Republic of Macedonia Mr. Nikola Gruevski, accompanied by the Director of the Public Enterprise for State Roads Mr. Ljupco Georgievski and the Mayor of Veles Mr. Slavco Cadiev, checked the progress of works on the reconstruction of "Gemidzii" Bridge.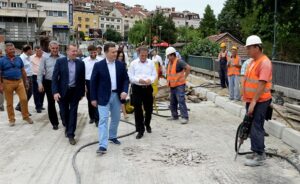 Photo taken from MIA
The bridge "Gemidzii" was first built in the period from 1958-1960 and this is its first complete repair ever. The bridge is 168 meters long and 11.3 meters wide, with 7.0 meters wide carriageway.
Bridge repair activities completed so far include the asphalt removal from the carriageway structure (bridge deck) and the sidewalks, and activities for the purpose of stabilizing the structural parts of the bridge (pillars, transversal girders, roadway lane) by their reinforcing and concreting, while currently the concrete surfaces at the abutments are being repaired. Simultaneously the bridge deck is being prepared for pouring an additional concrete layer for the purpose of leveling, stabilization, and hydro isolation, after which the bridge deck and the sideways shall be asphalted. Installation of curbs has also begun.
          The bridge repair activities started in early March this year. The completion period planned was one year, but the full repair is expected to be finished earlier than that, i.e. by the end of this calendar year.
The investment value of the repair of "Gemidzii" bridge is almost 32 million denars.